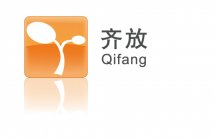 http://www.qifang.cn/
Qifang is a web service for Chinese students to find a way to pay for their education by connecting them with individuals, companies and organizations that can support their educational dreams. Working like an eBay auction, sponsors bid and compete to help, and lenders can offer internships and job opportunities as well as provide funding to pay bills. Qifang manages the transaction and repayment and is a communication tool for borrowers, lenders and peers. Students also learn about financial literacy. Qifang has been recognized by the World Economic Forum as a Technology Pioneer for its innovative model and positive social impact, featured at the Clinton Global Initiative annual meeting, and honored by the Global Social Innovation Forum.
Qifang's development mode and middle or long term planning
Qifang will be continually concerning education – to provide everyone an effective approach to pay for the education. To us, it means finding out financial source for student loan as well as helping students understand financial knowledge and assist their personal career development. In short term, Qifang is seeking for partners to mutually achieve these goals. The partners include companies that care students' CSR and train employees, individuals who dedicate to helping students, and foundations which concern educational business. We are also planning to cooperate with NPOs, which are dedicated to donation and scholarship programs. For sure, we are expecting new comers to join our team!
Source:Qifang